Watch a movie
The new Cineworld cinema features 14 state-of-the-art screens including IMAX, the world's most immersive cinema experience and 4DX, Cineworld's most exhilarating way to watch a film. The cinema will also be home to a Starbucks, and Baskin Robbins counter.
Make a day of it
Forget crazy golf . . . this is adventure golf!
We've got two 18-hole indoor adventure golf courses set amidst a tropical paradise at Drake Circus The Barcode, Plymouth.
Enjoy your evening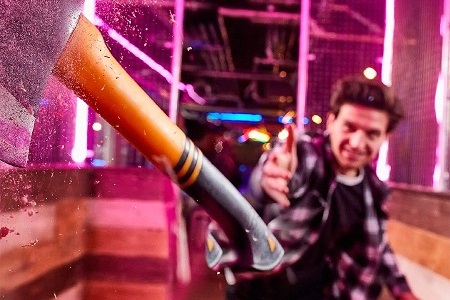 Enter the battleground!
Get ready for a host of wild activities including Axe Throwing, Shuffleboard, Karaoke and much more.
Coming soon!
Spinners
Spinners is a brand new cocktail bar featuring virtual clay shooting, 5 duck pin bowling lanes & darts! as well as the most Insta-worthy interior.
Cosy Clubs celebrate the joys of relaxed dining, drinking and lounging in a fabulous, welcoming setting: think aristocratic abundance with a dash of local village cricket pavilion pottiness. Magnificent menus veer happily from brunches and light salads to comfort food classics, from fine coffees and smoothies to some of the finest cocktails known to man and woman.
Zizzi Italian Restaurant serves tasty, Italian style food with a twist! Have your choice of pizza, pasta, risotto or salad followed by one of their indulgent desserts – all in a uniquely designed restaurant.
South African cuisine, famous for its delicious heat of flame-grilled PERi-PERi chicken, Nando's offers something for everyone – from the extra mild to the all-out-wild. Whether you're enjoying a family feast, a quick bite, or grabbing a take-away, each visit comes with loads of their famous vibe and legendary flavour.
American burger bar Five Guys is how burgers and fries are meant to be. High-quality grain-fed beef, hand-cut fries and as many topping combinations as you like. And that's before you get to create your own mix-and-match shakes. It's easy to see why these guys have built a cult-like following since arriving in the UK.
Multiple taps will pour the very best beers from BrewDog and friends, alongside a mouth-watering menu of burgers, wings and salads for you and your friends to enjoy.
Las Iguanas is home to fresh & authentic South American food & cocktails. Here you'll discover the finest South American dishes with unique flavour blends & inspiring recipes from Brazil, Mexico, Peru & beyond. With menu options including kids, vegan, vegetarian, gluten-free & halal.